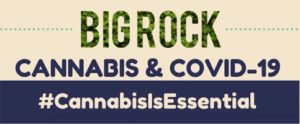 Foreword from Big Rock Founder and General Partner, Mike Harden: 
In any movement there are major defining moments that crystalize progress and define gains. From long-time growers who never thought the day would come to suburban soccer moms, many people were surprised at the inclusion of cannabis on the essentials list. Most seem to inherently understand, why cannabis is essential:
Cannabis is essential because it is medicine

Cannabis is essential because it is a safer alternative to pills and alcohol

Cannabis is essential because we have a right to it and shouldn't give up anymore liberties than we must in these times

Cannabis is essential because a lifetime of work and hard earned progress should not be lost in months.  
We believe that the recognition of cannabis as essential will be looked back as one of those moments, not just with consumers, but with investors as well. 2019 was a year of reckoning for the cannabis investment industry with the vape crises compounding a giant valuation bubble burst. High flyers and industry giants were knocked back and investors began to ask themselves if cannabis is worth the risk. We believe the designation of cannabis as essential will give the investment class some much needed stability as it cements itself alongside other investment classes that are designed to weather periods of uncertainty.  
We expect continued carnage in the cannabis industry for the near future as hastily created brands, Canadian penny stock millionaires, and poorly merged MSO's continue to unwind.  However, we believe product led companies and teams who survive yet another extinction event will emerge even stronger, with the wind of being an essential business behind their backs.
*****************************************************************************
Cannabis & Covid
In response to the Covid-19 pandemic, local jurisdictions in California became the first to impose stay-at-home or shelter-in-place orders in early March. Despite a burgeoning legal cannabis workforce of 243,700 full-time employees nationwide and 39,804 full-time employees in California alone per Leafly, many were left in limbo as to the status of their jobs and cannabis businesses amid the initial confusion. When San Francisco Mayor London Breed and the San Francisco Department of Public Health announced their shelter-in-place orders on March 16, 2020, only businesses in industries deemed "essential" per the order would be permitted to remain open. Cannabis businesses were conspicuously missing. 
Michael Bostarr of Sparc, a Bay Area-based brand and collection of Bay Area cannabis dispensaries remarked, "We [initially] planned to close indefinitely. We closed our SF locations the entirety of Tuesday the 17th. Midday on the 17th, we got news that cannabis was considered essential and reopened on Wednesday the 18th. We have since been paying close attention to local laws and following the procedures and checklists provided from the county for essential businesses." 
There should not have been confusion in a city like San Francisco, which was in fact the first city in America to legalize cannabis for medical use during the AIDS crisis with activists like Dennis Perron and Mary Jane Rathbum at the helm. It would be a tragedy for our bold city and the state at-large to push policy that limits patient access in this critical and stressful time for residents. The initial exclusion from the essential business clause was concerning – our regulators and particularly those in San Francisco should have cannabis access top of mind. 
Along with the Big Rock family, the cannabis community mobilized to sign petitions, draft crucial communications, and contact civic leaders across the Bay Area and Sacramento. For Karli Warner of Garden Society, a premium edibles and pre-roll brand based in Sonoma County, "Safe access to medicine was the driving force behind supporting full legalization in the first place. We quickly got on the phone with our peers in the industry, including Joyce from Big Rock, Erich from Sparc and Andrea from Sava, to begin lobbying for cannabis to be qualified as an essential business."
According to Amanda Denz of Sava, a delivery company servicing the Bay Area, "We sent a letter to city officials explaining why we believe this and also spoke with several reporters about cannabis being essential. We sent the petition out to our 40k email list and got many replies from customers that they appreciated the efforts and had signed and shared it. We activate our PR team to help spread the word that cannabis is essential on a national level, and have an editorial on the subject coming out shortly."
Within 24 hours, Mayor Breed announced on March 17th that the San Francisco Department of Public Health had amended its Order and deemed cannabis operations essential, noting "Cannabis is a needed medicine for many San Franciscans." 
On March 19, 2020, California Governor Gavin Newsom issued the nation's first statewide shelter-in-place in response to the Covid-19 pandemic with Executive Order N-33-20. The Executive Order initially followed the federal guidelines for the 16 critical infrastructure sectors, which did not explicitly list cannabis among them, only Healthcare and Food/Agriculture came close. However, the Governor's office clarified the next day that cannabis was to be deemed essential and the California Department of Public Health released its own list of "Essential Critical Infrastructure Workers" on March 22, 2020. It includes "workers supporting cannabis retail," and accordingly all cannabis operations supporting retail, including cultivation, manufacturing, transportation/distribution, and testing. Governor Newsom's senior advisor on cannabis Nicole Elliott remarked, "Recognizing that patients need access to this medicine, as well as acknowledging the importance that consumers continue to be able to access legal cannabis made safer by our regulated marketplace, the governor deemed the cannabis industry essential." 
Heidi Adams of Mendocino-based flower producer Henry's Original exclaimed, "We're dealing with unprecedented times, but it has been exciting to see the full cannabis community come together to support the greater good and ensure cannabis remains an essential need."
In reality, the designation of cannabis as essential isn't as much a designation as it is recognition. Multiple states have taken California's lead in recognizing and designating the entire cannabis supply chain as essential businesses alongside farms, medical clinics and food distribution channels.
With the onset of Covid-19, we are seeing first hand how their declaring cannabis an essential business is improving lives, offering healthier alternatives to alcohol and other substances, and easing the growing mental strain of the quarantine. We've been in close contact with our portfolio companies, and since the onset of the pandemic, we are impressed with their commitment in adjusting to the new normal.
Andrea Brooks of Sava observed, "These are undeniably unprecedented times and extraordinary measures are needed, but it is imperative that lawmakers in every state understand the value of safe and accessible cannabis in their communities during these uncertain times."
Sava has seen an uptick in edibles and sleep products as well as a higher demand on delivery in general. Though women have been their focused audience, they've seen a 12% increase in women customers over the past month. Sava is not alone; according to data from Headset, during the first month of Covid-19 shutdowns across the U.S., cannabis cannabis sales were beating sales records nationwide.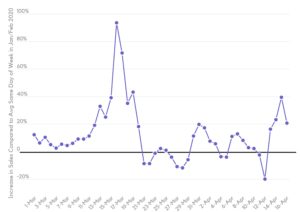 However, some categories have been performing better than others. The chart below illustrates Headset's finding when comparing sales by market segment from January 1st through March 6th to March 7th through March 31st. Kikoko, among the top performing companies serving the Edible and Beverage segments, recently launched a direct-to-consumer option amid the Covid-19 pandemic and has seen 140% growth compared to sales at this time with their previous delivery partner. While they continue to sell in great retail outlets like Sava and Sparc, the D2C opportunity has opened Kikoko up to many new customers who are open to exploring cannabis for anxiety, sleep, or pain. Co-CEO Amanda Jones explained that "Kikoko's products are perfect for those people, so we have seen a large upswing in the number of new customers, most of them women."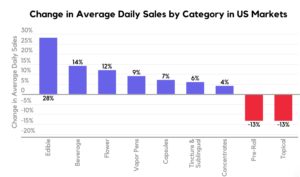 Karli Warner at Garden Society has seen similar trends in their sales. While their pre-roll "rosettes" have been selling well due to their appeal for individual use, she has seen a remarkable growth in sales for the Garden Society chocolates. Edibles being a familiar medium for new cannabis consumers and other factors like consumers opting for non-inhalation forms of ingestion during Covid-19 certainly play a part in  the remarkable change in sales figures demonstrated above. "With coronavirus being a respiratory illness, there is concern from some customers over smoking, so they're going for the edibles right now," said Warner.
Similar to Kikoko and Sava, Heidi Adams of Henry's Original noted "The biggest trends we've observed throughout this timeframe are an increase in delivery services as well as customers being more value conscious." Like Kikoko, Henry's is also developing new revenue streams at this time. They have expedited retail launch of their new value line of flower, which was already being developed prior to the pandemic and will be released sometime this month. 
Another trend Jocelyn Sheltraw at Headset Analytics has noticed is that consumers are shifting purchases into weekdays and away from weekends, "These changing trends give us sales increases on some days (as Mondays now are generally much larger than they were before) and decreases on Saturdays (as weekend shopping is slightly less common)."  
Companies adapting
Company and employee policies have shifted dramatically in cannabis. Heidi Adams of Henry's Original remarked, "Covid has impacted every aspect of our business. From an operational and cultivation standpoint, it has slowed us down as we've put additional safety precautions in place such as 6 ft barriers between working spaces, implemented PPE masks and more. On the sales and administration front, our full team is working remotely to stay safe and healthy. We have shifted the way we are doing business with retail partners and consumers, doing more virtual meetings and eliminating face to face demos with our customers. With that said, we have increased our social engagement to ensure we continue to have direct contact with the loyal customers that have made our business what it is today." 
Kikoko, Garden Society, Sparc, and Sava maintain similar practices, with their own twists, of course. Kikoko is hosting an online tea party with Solful on 4/20. Sparc is also developing virtual content to keep customers engaged with the lack of in-store activations. However, unlike Kikoko, Garden Society, Sava or Henry's Original, Sparc has multiple retail locations on top of processing/cultivation facilities with hundreds of workers. As a result of requiring more in-person contact with deliveries and in-store purchases, Sparc has taken several precautions, some similar to the above, "including all employees wearing masks and gloves, setting up markers outside our store to ensure social distancing for pick up orders (photo attached), and sanitizing all surfaces after every transaction. We have made our online ordering as smooth as ever, so customers can easily order online for pickup and delivery in both San Francisco and Sonoma County," according to Michael Bostarr.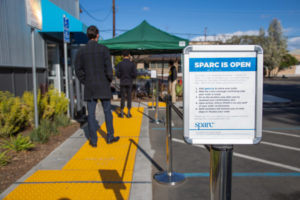 Shift to delivery 
As demonstrated with the first-mentioned Sava sales figures, cannabis companies are also seeing a major shift from in-person shopping to home deliveries. According to Bostarr of Sparc, "Online orders now account for 95% of our orders, whereas before the shelter in place it was anywhere from 10-15%" Jocelyn Sheltraw from Headset Analytics added, "Delivery and e-commerce are here to stay. In a post Covid world I don't think consumer behavior will revert back. Brands and Retailers will need to adapt to this. Brands will need to think about how to differentiate themselves in a saturated space, especially producers with products that sell best through sight, smell, and Vendor Days."
While the changes are indeed unprecedented, it is imperative that companies strictly follow such guidelines laid out. At Big Rock, we are delighted to see that our portfolio companies are dedicated to the safety and wellbeing of not only their customers, but employees as well.
During a time when anti-anxiety medications have sold 34% more during the Covid-19 pandemic period than the same period in 2019 and alcohol sales are up 55% nationwide, it should be explicitly clear that cannabis is essential. According to Amanda Jones of Kikoko, products that address sleep, anxiety, mood and focus are in major demand right now. With people looking for alternatives to alcohol and pharmaceuticals for relaxation and sleep, consumers are realizing that they can still function on low dose THC/CBD products. "They can home-school their kids, they can cook a meal, work from a noisy kitchen table, and just feel a little less of that floating anxiety and fear of the unknown we are all experiencing these days," Jones observed.
Federal response
Unfortunately, the federal government makes clear that it does not prioritize cannabis nor view it as essential medicine for consumers. The  federal government released the CARES act, a stimulus package aimed to breathe life back into the economy. While the cannabis industry currently pays exorbitant taxes compared to other industries, neither the EIDL nor the PPP options are available to cannabis companies. Since the loans are administered by the SBA, a federal agency, these loans are not available to cannabis companies or any affiliated cannabis companies. We at Big Rock with others in the industry, are campaigning for that to change, and lobbying hard here in California for the state to release a package that is inclusive. In Washington DC, 11 Senators led by Nevada Senator Jacky Rosen are pushing for inclusion, and lobbyism from various trade organizations are pushing for the same. Since cannabis has been deemed essential in California and in many other states, we believe that this is the critical time to push for change. According to Jocelyn Sheltraw at Headset Analytics "A lot of local councils are working on the same policy, but all pushing different messages. The solution is to get involved." Sheltraw further noted that while the cannabis industry is often siloed locally in lobbyism, we are seeing an unprecedented collaboration across the industry in response to Covid-19. 
While a new consumer-base is helping cannabis companies at this rough time, Heidi Adams of Henry's Original notes, "The cannabis industry has deep heritage in Mendocino County and we, along with the broader community, know it's critical we continue providing therapeutic relief and medicine to consumers throughout the state during this challenging time." Those who use cannabis regularly often rely on it for medicine; it is an impassioned consumer-base that is vocal and ready to mobilize. "I think because the cannabis community is accustomed to being on the roller coaster that is the cannabis industry, we already know how to rally together and support each other unlike anything you see in more established industries," says Karli Warner of Garden Society. Since the start of the pandemic, Garden Society has expanded its menu offering in Napa and Sonoma Counties to include other women-owned brands that fill gaps in their product lineup with products like tinctures, beverages, low dose, and vapes from companies that share its values of uncompromising quality and empowerment. "In a time when every sale matters for every company, we truly believe we are better together." 
#BetterTogether #CannabisIsEssential #Happy420
*****************************************************************************
Let us all use 4/20 as a time to pay homage to the cannabis trailblazers and advocates who allow us to do what we do today, and let's never forget the thousands who are still imprisoned for victimless cannabis "criminal offenses." Please consider a donation to the Last Prisoner Project today.