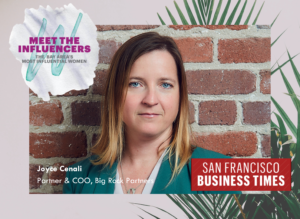 Congrats to our own COO and Partner Joyce Cenali for being recognized by San Francisco Business Journal as one of the most influential women in Bay Area Business for 2020.
The SF Business Times develops this list yearly to honor and celebrate women business leaders who work in diverse fields, but all share a passion for what they do. They are leaders in their organizations and their communities.
Joyce has worked day in and day out to both strategically and financially assist entrepreneurs, many of which are minorities, in cannabis. A long time craft cannabis cultivator, she co-founded an Emerald Cup winning operation and prior to joining the team at Big Rock, began angel investing in various women-founded early stage cannabis start-ups including Sava. She is a board advisor with Access & Innovation whose mission is to advance a modern regulatory model that unites capitalism with inclusion, and former co-chair for the Sonoma County chapter of Women Grow, which serves as a catalyst for women to influence and succeed in the cannabis industry as the end of marijuana prohibition occurs on a national scale. She's an avid supporter and investor in LADY BUDS, an indie film that features, among other things, the important LGBTQ history in cannabis. 
Congrats, Joyce. Well deserved.
The full article is behind a paywall, but if you have a subscription you can find it here: https://www.bizjournals.com/sanfrancisco/most-influential-women-in-bay-area-business