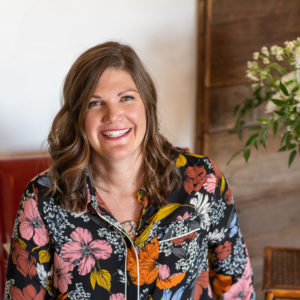 Erin Gore is all about one word: JOY. Named one of the most powerful and innovative women in cannabis by Forbes, Erin is founder and CEO of Garden Society, a cannabis company for women in search of new, more holistic ways to rejuvenate from the chaos of their daily lives.
Garden Society stems from Erin's personal journey of striving to find balance in her life, as both a mom and entrepreneur, and being surrounded by women feeling the same pressures. Alongside her business partner, Karli Warner, the company is built on their shared passion to encourage women to explore non-traditional ways of enjoying a better quality of life. 
Erin, what drew you to work with this magical cannabis plant?
I'm a proud Wisconsin girl, born in the land of the cheese.  After I received my degree in Chemical and Biological Engineering, I went to work for Henkel, a German CPG company for +10 years.  Through this time, I had a very exciting career that was as stressful as it was steep. I kept turning back to cannabis to help me manage my chronic pain from college basketball injuries, and then to help me manage my sleeplessness and stress from each new promotion.  
I was fascinated by how such a simple plant could be so complex and provide me so much relief.  The more success I had with my career, the more isolated I felt in my personal life. I was in a wonderful marriage, where my husband had a great career, and we had a new wine brand launched with Constellation.  However I was struggling with fertility like so many women in my same stage of life. I felt like I wasn't succeeding anywhere in life, constantly disappointing someone and just moving one day to the next trying to figure out how to keep all the balls in the air, while trying to make time to focus on my health to have a family.  
One day, my friends and I had the idea to have a "high holiday baking party" where we made edibles with a group of us.  I was the "dosing queen" considering I knew the chemistry. We had some chefs in the group who could create amazing food.  We had so much fun, together, talking about cannabis, experimenting, and connecting on our perils in life. These parties grew in size, with more women finding out about them and wanting to join, to the point where we outgrew my house.  It was this spark I saw, where I realized I wasn't alone in my quest for happiness and my struggles for balance, and that all these women saw something in cannabis that they wanted to learn about, try, experience, and ultimately enjoy.  
Shortly after, Garden Society was born. I was excited to start a company, a movement really, where the purpose was to give women permission to choose cannabis as a way to help them find balance and joy, through education and products designed for women, or more simply put, designed for me and my friends.  
How do you and your company hope to impact and/or inspire women?
Our mission at Garden Society is simple, to bring more joy to womens' everyday lives. We do that through education – which in turn empowers women to take their cannabis journey into their own hands, uncompromising quality in our products – building loyalty and trust, and a vision to build a community of like-minded individuals where cannabis is as destigmatized as that glass of wine or hot yoga sesh. We want to inspire women to not only feel comfortable enjoying cannabis to turn down the chaos surrounding us, but to also take that quiet moment they've created to think about what we as women really want in our lives, to envision what we are capable of and look at the tools at our fingertips to make that vision a reality.
My personal passion is helping women achieve their potential, and helping people find better health, which I think are totally connected.  I really believe that through health we find love and success, and through that we build family and community.  
What has been the most difficult and the most rewarding thing about building your business?
I'd say that, so far, every step along our cannabis journey has been both difficult and rewarding. I think that any time you are able to surmount a challenging obstacle, that euphoria of success makes all the trudging and turmoil worth it. Fundraising has been an especially tumultuous journey. While it's extremely challenging to be fundraising as women in cannabis, working with investors who believe in our vision is exhilarating. We're also excited to be working with executives from other industries who see the future in Garden Society and are helping propel us into our full potential. From launching new products, to developing innovative sales channels, the life of a cannabis startup is never boring. Add to that a burgeoning industry that changes and evolves daily, and we are constantly on our toes. 
Cannabis so far is a local industry, born from a global movement. How can leaders across geographies work together to bring other women into the industry?
The women I know in the cannabis industry are some of the strongest women I've ever met.  The grit and determination needed to grow our companies during the ups and downs of the industry and our own business, while probably underfunded, is beyond what most can ever imagine. Elizabeth Gore, President of HelloAlice.com (and coincidentally my sister-in-law), coined female founders as phoenixes, not unicorns.  This could not be truer for women in the cannabis industry.  
She described how the phoenix is traditionally known for three things: rising up, strength and compassion. This perfectly summarizes how women in the cannabis industry are already uniting.  We are rising up to the opportunity presented to us by all the years of activism to bring us to legalization. We are some of the strongest women I've ever met, really moving boulders up mountains to build our businesses and to raise each other up.  We lead with compassion since we are women who believe in this plant's ability to help heal – be it physically or emotionally.
What is one bit of wisdom or advice you have for other women looking to lead in this space?
As you're scaling your company, making sure you're spending time to create the right culture for your business and hiring the right staff for your team to lead the company into the next phase of growth. Starting is very different than scaling a company. Save time, money, and don't delay your success by making the wrong hire or letting the company culture go askew.  It's such an exciting opportunity, we have the luxury of creating the vision of what we want and there is no shortage of top talent to help execute and join along for the ride.
 Garden Society creates artisanal edibles and sun-grown pre-rolls that connects responsible farming, sustainable ingredients and strain-specific cannabis in a variety of products. For more: https://thegardensociety.com/