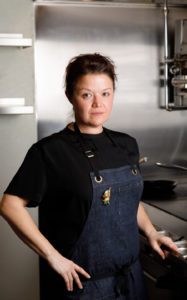 "Work hard, smart, and passionately." An award-winning chef and most recently nominated as one of James Beard's Top Chefs of 2020, Kim Alter is a force in the kitchen and beyond, and a huge advocate for women-owned businesses, just like us. Below she shares her thoughts on the restaurant business, and the females in it.
What drew you to work in the restaurant business?
I am in the restaurant business because I love the hospitality of it, making people happy, creating memories for guests. The ability to be creative and work with my hands is amazing.
How do you and your company hope to impact and/or inspire women?
I want to support and inspire women daily. My kitchen has been mainly comprised of women since we opened. Being able to teach and work alongside other women has been priceless. We also make an effort to use mainly female purveyors, whether it is a designer for Nightbird or a farmer who can help me create more inspiring food.
What has been the most difficult and the most rewarding thing about building your business?
The most difficult thing about building my business was getting it to the point where it is now. Raising money, dealing with construction, all the things…the most rewarding is knowing that I am able to put all my beliefs into my business. It is my own.
How can leaders across geographies work together to bring other women into the industry?
Our industry, I think, has slowly been bringing women back to the forefront and I think we all who are already in places to let women rise up have a duty to do that.
What is one bit of wisdom or advice you have for other women looking to lead in this space?
Work hard, smart, and passionately.  
Nightbird Restaurant: https://www.nightbirdrestaurant.com