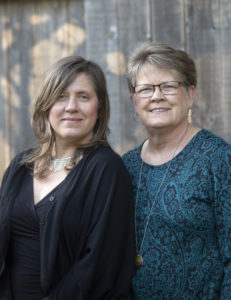 Didi Davis (co-founder and CEO) and Susanna Frohman (Director of Sales and Business Development) of Sweet Releaf set down to share their thoughts on the magic of cannabis and the impact of women in this business. Sweet Releaf's products are from the heart. They were created to help a family member deal with chronic pain, and we are all able to use them today.
What drew you to work with this magical cannabis plant?
By accident, quite literally, when a family member sustained severe back injuries in a car wreck that left her with a diagnosis of chronic pain for life. After years of pharmaceuticals, we decided to try a natural alternative. We heard cannabis was good for pain and when applied topically, there was no psychoactive side effect, another prerequisite from our loved one. Experimentation yielded a luxurious, aromatic, and highly effective body butter for pain, which became Sweet Releaf, our flagship product.
How do you and your company hope to impact and/or inspire women?
We know women have traditionally been caregivers and healers in their communities, especially with plant medicines. And we know cannabis has been used as medicine through the ages in the form of salves, poultices, and oils. Since women tend to be the buyers of wellness products for their families, we believe they intuitively understand the value of applying natural medicines that actually work on painful conditions. In addition to helping themselves, women are also empowered when they are able to recommend effective products to their loved ones. If you are lucky enough not to be in pain, chances are you probably know or love someone who is.
What has been the most difficult and the most rewarding thing about building your business?
The most rewarding aspect has always been the incredibly powerful, direct feedback from customer testimonials who tell us that our products are making such a noticeable improvement in their lives! We know it works because of the first-hand feedback from thousands of customers over the years. They are our inspiration and because of this we remain focused on bringing comfort to as many people as possible.
The most difficult thing has been banking and navigating the new regulation of the industry in the last two years. In particular, dealing with shifting regulations around compliant packaging requirements and high taxes that make it hard for customers to understand why legal cannabis products cost so much. In addition, we have found it difficult to get our product to customers statewide who want it but do not live near a dispensary due to many local jurisdictions banning cannabis on the municipal level.
Cannabis so far is a local industry, born from a global movement. How can leaders across geographies work together to bring other women into the industry?
Women should continue doing what they do best, which is talking, collaborating, and supporting each other's initiatives. Inviting successful businesswomen from all industries to meet and network with female cannabis entrepreneurs would be great cross-pollination and could help to normalize and destigmatize the negative association many still have about cannabis. Including women of color and people disproportionally affected by the decades-long 'war on drugs' would be another important suggestion.
We envision quarterly meetings throughout the year in four different geographic locations nationwide so as many women entrepreneurs as possible could attend. Pairing female entrepreneurs with successful companies led by men and women alike in a mentorship role would be another idea we would like to put forth.
What is one bit of wisdom or advice you have for other women looking to lead in this space?
In this constantly shifting and unpredictable industry, anyone entering it has to be creative, professional, very flexible, and able to embrace quick pivots from one way of doing things to the next at the drop of a hat. That means leaders in this space must exhibit these traits and inspire those working with them to do the same. Raising capital is another highly important skill that should also be prioritized. Lastly, know your numbers well and be able to really understand the landscape opportunities as they change.
For more on Sweet Releaf, visit  https://www.sweetreleaf.com/.