In this issue, we reflect on 2019 and look ahead to the next decade.
The last decade was a whirlwind of highs, lows, and learnings for the entire cannabis industry. Activists across the globe saw their life's work bring about an unstoppable tipping point for access to safe cannabis. While 2019 provided many lumps and learnings, it was a year of validation for our Big Rock family. We enter the new decade with even more resolve that our focus on authentic cannabis products and best-in-class California brands combined with fair, reasonable and investor-friendly valuations will bear fruit.
The industry at-large continues to grow, with global cannabis sales expected to reach $20 billion in 2020, representing a near 30% year-over-year growth rate compared to 2019 sales figures, according to BDS Analytics. While the CBD market will continue to experience unprecedented growth, national CBD salesin 2019 totaled around $1 billion, only half of the 2018 THC revenue in California. That does not discount the opportunity, as the ramifications of the Hemp Bill will see the CBD market reaching $10 billion in sales by 2024. The use of CBD and hemp-derivatives will become increasingly common in 2020, particularly as the FDA and other agencies produce uniform regulations surrounding hemp products.
California remains the largest single cannabis market, with over $3 billion (not including hemp-derived products) in legal sales occurring in the state during 2019 alone. However, this is still overshadowed by the strength of the illicit market in the state, with an estimated $8.7 billion in sales occurring within the same time period. While we certainly do not expect this difference to even out within a year, we do see considerable room for growth in the regulated California cannabis market in 2020 and beyond – particularly as state-level compliance and tax structures become more business-friendly. With California sales estimated to reach $7 billion by 2024, we expect that concerns over the size of the illicit market will subside.

Politics and Social Equity
We do not anticipate legalization on a federal level in 2020, save for an unlikely pre-election, Executive Order from President Trump. However, we expect much progress on the state level, and we look primarily to New England and the Northeast where we find states most likely to legalize or vote to legalize adult-use/recreational cannabis next: New York, Pennsylvania, New Jersey, Connecticut, and Arizona. Meanwhile, the sale of legal cannabis began in Michigan in December 2019 and in Illinois on January 1, 2020 with much success; throughout the year, Hawaii and North Dakota also decriminalized personal cannabis possession. The U.S. House of Representatives made a step towards ending cannabis prohibition with its approval of the SAFE Banking Act, which protects banking institutions that work with cannabis businesses from the repercussions of federal illegality; the bill passed 321 to 103 in Congress, and we remain cautiously optimistic that Mitch McConnell's Republican-held Senate will give the Act a fair look. The 2019 House vote demonstrates the potential for cannabis legislation in 2020.
A number of Big Rock affiliates, including our legal counsel Bob Hoban, were in attendance for the historic visit in October by the Senate Majority Leader, Mitch McConnell to California to tour a cannabis facility and meet with a number of industry executives and leaders. Furthermore, Big Rock was proud to welcome CA Governor Gavin Newsom to our office in November.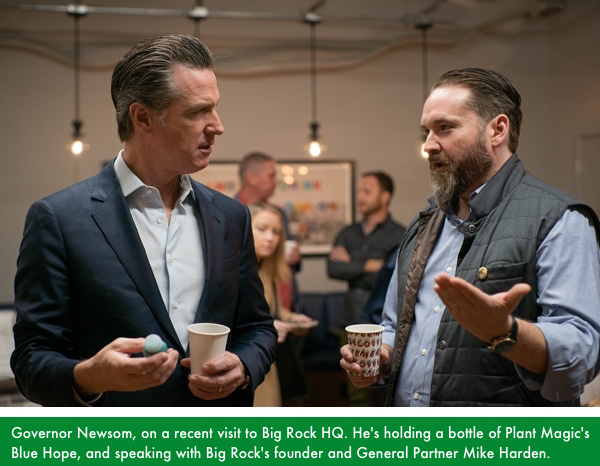 We discussed the state of the industry and impressed upon the Governor to consider the following asks to build and enhance California's legal cannabis industry:
Remove regional/county restrictions—mandate statewide licensing program.

Issue more retail licenses.

Implement a statewide (rather than municipal) equity program.

Implement a transparent tax system and levy the taxes at the point of sale, as opposed to all the way through the supply chain.

Implement a statewide cannabis hotline (by dialing 420).

Implement a licensing program that enables the sale and dispensing of CBD and THC products in hospitality venues, particularly ones where alcohol is served.

Partner with Oregon's Craft Cannabis Alliance (CCA) to open the commerce borders.

Double the funding, as appropriated by Proposition 64, the Adult-Use of Marijuana Act, to the Governor's Office of Business and Economic Development for the purpose of reinvesting in communities most affected by past drug policies and to the University of California towards research.

Elevate the Bureau of Cannabis Control to a Department-level agency reporting directly to the governor.

End the onerous tax structure imposed by the California Department of Tax and Fee Administration (CDTFA)
Alongside our friends at New West Summit, we were humbled to host the Last Prisoner Project for a fundraising event at Big Rock HQ this Fall with industry legends Dennis Hunter, Steve D'Angelo, Bob Hoban, Nikki & Swami, and Gaynell Rogers.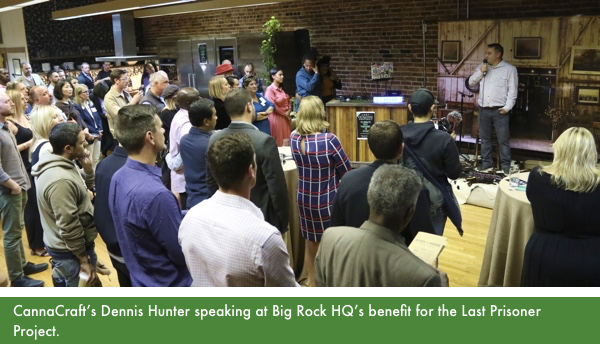 We also joined RiverForce Partners, KushCo, Planet 13, and Marcum for a poker tournament at MJBizCon in Las Vegas to benefit the Last Prisoner Project and Big Brothers Big Sisters.
Furthermore, we are excited that 2020 should bring about the release of the documentary Lady Buds which is now in final post-production, but you can still donate towards their efforts here!

Big Rock Strategy
The Big Rock team has maintained a special connection with and a fondness for cannabis flower as a high-end consumer product input. In turn, flower and edibles provide an anchor to our portfolio as opposed to concentrates and vapes. That said, we do have exposure to concentrates and vapes such as CannaCraft (Absolute Xtracts, Loud + Clear, and Care By Designconcentrate/cartridge SKUs). Seeing as these brands produce premium and medical-grade concentrates, we are pleased with Big Rock's existing exposure to the concentrates and vapes category with products that far surpass safety/quality standards.
This strategy has proven especially superior in light of the controversy surrounding cannabis oil vaporization and instances of E-cigarette or Vaping Product Use-Associated Lung Injury (EVALI), also known as "VapeGate," that developed as a result of illegal or non-compliant products largely purchased over the illicit market. According to New Frontier Data, legal sales of vape cartridges and concentrates dropped across markets by anywhere from 62% in Oregon and 37% in Massachusetts, to 6% and 3% in California and Washington respectively when compared to preceding three-month averages. However, data shows that dollars that otherwise would have gone to vape products instead went to flower, pre-roll, tincture, and edible products.
As activists for a flourishing and sustainable cannabis movement, we have strongly advised all of our portfolio companies to invest in compliance and quality control. The statement by the FDA should be heeded – we highlight our portfolio company Roshi whose founders come from a previous FDA client, Genentech, and provide a solution to supply chain/inventory compliance.
Big Rock garnered some media attention in 2019 that highlighted our strategy and track record. Business Insider and CNN covered our strategy while Pitchbook listed Big Rock as one of the most active VC firms in cannabis.
A Historic Year in California
Cannabis pushed further into the food scene in 2019. Be on the lookout for an announcement later in the year regarding very exciting news from our Sonoma Hills Farm project, which goes live in 2020 and will be well-positioned to lead in bonding cannabis and high-end cuisine.
West Hollywood opened its first cannabis consumption lounge and cafe; we are incredibly excited for the next generation cannabis cafes, especially for our friends at Aeon Botanika (also in West Hollywood), which will feature an elevated retail experience, Moroccan-themed consumption lounge, cafe, and spa.
Outside Lands also made history this year with this year's cannabis experience, Grass Lands, where consumers were able to purchase up to seven grams of flower and up to two grams of concentrates and edibles across twelve vendors with consumption on-site. Outside Lands became the first large music festival to earn this distinction; despite there being only twelve permitted cannabis vendors, two of Big Rock's portfolio companies made the cut – CannaCraft and Sublime.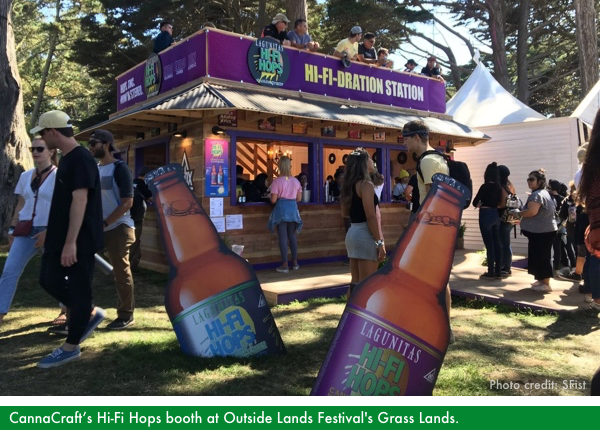 The 2019 fire season was a rough one in California, with the Kincade Fire causing the most damage, burning over 75,000 acres. Various other fires hit California cannabis country, but given the timing of the majority of the fires (October and November), the fires primarily impacted post-harvest, causing only a nominal impact on the cannabis industry. Big Rock team members made their way to the Sonoma County Fairgrounds to provide aid to evacuated victims of the Kincade Fire with World Central Kitchen in October and our team was able to see what a fantastic job our first-responders have done in working tirelessly to protect our communities.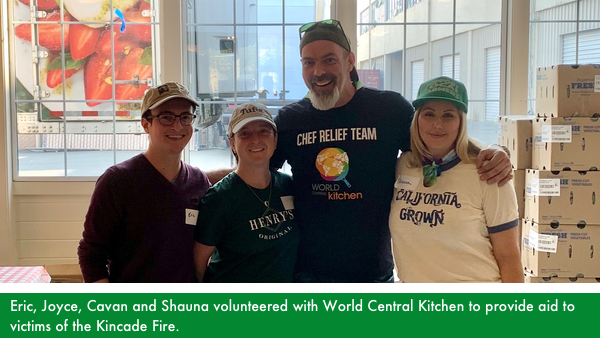 Financials
Despite a move away from debt-laden, MSO roll-up plays during a time of mass layoffs/downsizing at companies like Pax and Eaze, the infusion of venture capital into the cannabis space is at an all-time high. That is not to say that capital is easy to come by — equity capital dried up in the second half of 2019 as investors came to terms with the lackluster rollout of legalization in Canada and the ever-flourishing illicit cannabis market in the United States.
With this move away from equity capital, Big Rock saw a number of debt and factoring vehicles open up and expects to see more. Additionally, we expect to see private equity funds with a focus on acquiring distressed assets at aggressive terms in 2020. Furthermore, we expect many down-rounds or acquisitions for high profile cannabis companies at aggressive terms. In that light, we see a consolidation of assets and brands continuing with a roll-up of independently-owned dispensaries/retail licenses into chain retail stores.
2020 began with the monumental acquisition of Origin House by Cresco Labs on a stock-for-stock basis, a practice in mergers and acquisitions that we expect to continue throughout the year. 2019 saw many similar stock-for-stock deals with unfruitful outcomes as public markets declined by more than 50%, driven largely by declines in larger-cap, established cannabis stocks based in Canada. While we will not venture to guess when stocks will rebound, we are optimistic about the long-term strength of the capital markets upholding the cannabis industry.
Cannabis Portfolio Updates for 2019
PharmaCann continues to grow, with operations now in Illinois, Maryland, Massachusetts, New York, Ohio, and Pennsylvania. We were most excited to see that they received four of the seven available dispensary licenses in downtown Chicago. They were featured in the Crain's Chicago Business (heretoo), the Chicago Tribune, and ABC, among others.
Sonoma Hills Farm received its full conditional use permit in September 2019 and after a nearly 3-year battle to launch, will be in-ground with cannabis in 2020. They were featured in the Santa Rosa Press Democrat (here too), High Times, and the North Bay Business Journal, among others.
CannaCraft brands continue to excel with brands trending in top-five positions for every category that they occupy, and they saw Hi-Fi Hops rotate between the #1 and #2 positions with Kikoko for the top selling beverage (according to BDS). They recently promoted their former COO Jim Hourigan (Advisory Board – FedEx, Board of Directors – Better Business Bureau) to CEO position. They were featured in Forbes (here too), Rolling Stone, Food & Wine, Yahoo! Finance, and Mashable, among others.
Kikoko launched its direct-to-consumer model with great response and is now accessible to many of its discerning clientele that may not have an interest in the traditional cannabis retail format. They also developed and launched new products: Little Helpers Botanical Mints and New Zealand Manuka & Kanuka Honeyshots, both featuring various ratios of THC, CBD, and CBN based on the desired effect. They were featured in Vogue, Forbes (here too), Quartz, and Leafly, among others.
Garden Society moved toward a direct-to-consumer model and their newer SKU, Rosettes are flying off of the shelves. They were featured in Forbes, (heretoo), LA Weekly, and New Cannabis Ventures, among others.
Henry's Original sold its one-millionth pre-roll in late 2019 and unsurprisingly rank #2 in CA for branded pre-roll sales. Their 4-pack pre-rolls listed as a top-five "Fastest Growing Product" and the brand was named a top-five "Industry Innovator" in LeafLink's 2019 top seller list across all territories. We are excited that Henry's partnered with Omura to produce Henry's Original flower stick inserts for the device. They were featured in Forbes, Quartz, Green Entrepreneur, and OC Weekly, among others.
Our newest portfolio company, Vertosa infused four out of the five winners for infused beverages at the Emerald Cup 2019 and deals are in progress to provide emulsified cannabinoids to major CPG brands. They made headlines when they partnered with Humphry Slocombe to produce CBD-infused ice cream (see links) and were featured in the San Francisco Chronicle, Eater SF, SF Weekly, and SF Gate, among others.
Sava on-boarded various new emerging brands and accessories such as Cann, Sunday Goods, Le Haute, Omura, and several indoor flower brands, a shift from their previous outdoor-only flower brand ethos. They were featured in Forbes, Dope Magazine, SFist, Newsweek (CBD special edition) and Leafly, among others.
High Times is building up distribution and retail channels and recently promoted former Overstock.com president Stormy Simon.
Phylos Biosciences developed Conception Nurseries with CropOne Bioscience to address the need for tissue culture cloning in the cannabis industry. Phylos also developed AutoCBD auto-flower hemp seed with an industry-leading feminization rate of 99.98%+.
Proposition Cocktail Co. expanded to multiple distribution channels and made it to the final round of BevNET Live New Beverage Showdown and named one of 12 disruptive. They were featured in Forbes (here too), Paste Magazine, BevNet, and Refinery29, among others.
Roshi onboarded new customers as their platform continues to prove to be the most effective at inventory and supply chain compliance and management.
Apothecarry Case released a new case for concentrate users called The Dabney. They were featured in the New York Times, Leafly, and The Daily Caller, among others.
Juna launched its crowdfund on Republic.co (See here). They were featured in Vanity Fair, Surface Magazine, and Bustle, among others.
Plant Magic launched with a national account in Barry's Bootcamp out of the gate and recently began offering direct to consumer sales, they are yum and we in the office stock up every week.
We appreciate your time. If you have friends or industry colleagues that would like to receive this correspondence, please share their contact information with info@big-rock.com.