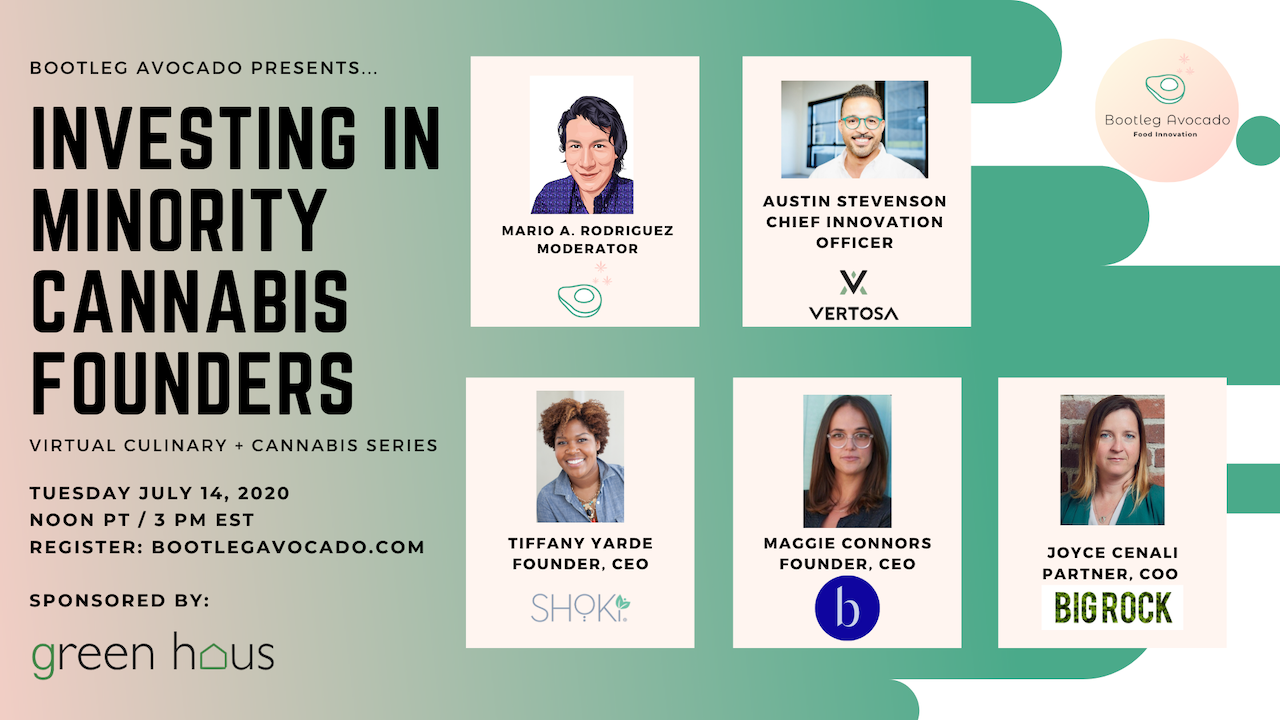 Bootleg Avocado Presents…Investing in Minority Cannabis Founders
July 14, 2020 @ 12:00 pm

-

1:00 pm
We are grateful and excited for our recent partnership with Vertosa, who has helped to curate our latest event within the intersection of culinary and cannabis with a focus on investing in minority cannabis founders.
We will be co-hosting along with Austin Stevenson, Chief Innovation Officer of Vertosa.
Discussions will include: What are the current struggles for minority founders? How can we execute on a call to action to elevate products and ideas for individuals of color? What are creative vehicles that support investments for these founders?
A huge thank you to our panelists:
– Tiffany Yarde, Founder & CEO, SHOKi
– Maggie Connors, Founder & CEO, Besito
– Joyce Cenali, Partner & Chief Operating Officer, Big Rock Partners
…
…
Special thanks to our sponsor Green Haus by One Haus – providing cannabis operations with a highly tailored and confidential talent search encompassing: manufacturing & operations, sales & marketing, corporate office, retail, culinary, and accounting.
…
…
Austin is the Chief Innovation Officer at Vertosa. He leads all commercial activities, including technical sales, tactical marketing, and new business development. Prior to joining Vertosa, Austin leveraged his bio-tech experience building the regulatory Hemp/CBD testing program for Eurofins Scientific – a world leader in food, environment, and product testing services – where he built and designed quality testing protocols for CVS and other retailers who carry Hemp/CBD products. For over 10 years, Austin has advised start-ups, built businesses, and launched hundreds of new products in finance, technology, and cannabis CPG industries.
Easily Share This Content!