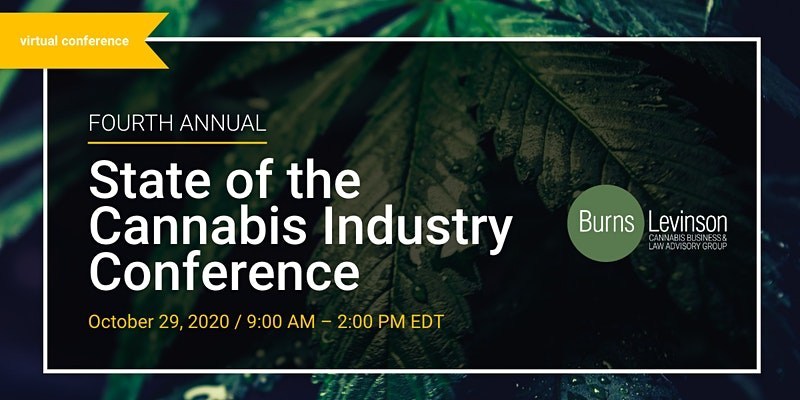 Burns & Levinson Capital Connection
October 29, 2020 @ 6:00 am

-

11:00 am
On October 29th, 2020, Burns & Levinson will host the 4th annual State of the Cannabis Industry Conference, bringing together national experts and industry professionals to share their unique strategic legal and financial perspectives on cannabis banking, regulations, M&A, investments, and more. For 2020, we have redesigned the event as an interactive virtual experience, enabling registrants to make connections, develop partnerships, and learn from industry leaders. Featured speakers include Steven Hoffman, Chairman of the Cannabis Control Commission of Massachusetts, as well as Mitchell Kahn, CEO and Founder of Grassroots, and Joseph Lusardi, CEO of Curaleaf, whose companies merged earlier this year to create the world's largest cannabis company.
This year, we are launching an exciting new component: the Burns & Levinson Cannabis Capital Connection program. Our firm will match emerging and early-growth cannabis companies with participating investors who are seeking growth-oriented companies to potentially fund, connect with, or mentor. Hand-selected cannabis companies will gain critical access to expert industry leaders during one-on-one sessions. In return, investors will have access to vetted, pre-approved companies with fresh ideas and the work ethic to succeed in the exploding cannabis industry.
What's in it for us? Burns has a vested interest in the cannabis industry. Our firm was among the first in the country to develop and utilize our decades of corporate and finance expertise to create a business and law advisory group specifically targeted to cannabis. We have years of experience working with and cultivating relationships with our clients looking to take advantage of and expand their opportunities in this emerging area. Our Capital Connection program will focus on leveraging our network to facilitate the relationships needed to grow the cannabis industry and marketplace.
Easily Share This Content!